Kayaking
Tumben Ha Eco-Retreat offers visitors an exciting kayak adventure in the beautiful Cenote!
Photo Safari
Throughout the property at Tumben Ha Eco-Retreat, there will be numerous photo opportunities. Mountain views, jungle flora, and don't forget the fascinating insects! Other local habitants of this paradise include toucans, spider monkeys, sarahuato, parrots, turtles, hummingbirds, and white heron. This is a once in a lifetime chance to capture a lasting memory of these jungle rarities.
Star Gazing
Celestial observation or "Stargazing" was of great importance to the Mayan Civilization. The lack of ambient light around Tumben Ha Eco-Retreat provides the ideal setting for this time-less tradition.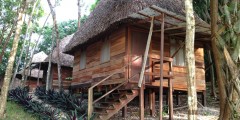 Lodge and Camping
Tumben Ha Eco-Retreat offers up to seven double occupancy cabanas.
Each cabin is screened to give you added security and comfort while enjoying your stay in the jungle. Every cabin has a full bathroom with running hot and cold water, mosquito nets, interior lighting, one electrical outlet and a covered patio.

Social Networks